Blog Submission Service
Blogs have come a long way and it has become an incredible popular means to spread media, creativity and websites to a large section of people at anytime. To make your online business triumph blog submission service can play a vital role. It is a highly proficient technique that will help to improve the presence of your business worldwide. Sensible submission service can bring a massive quantity of embattled and potential traffic into the website. To get more number of one way links, better traffic and search engine rankings hire our service of blog submission.
Our Services
Blog Submission Service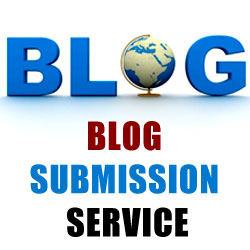 Blog submission is one of the most effective methods of Internet marketing in the world today. A good blog post will single-handedly boost your search engine ranking and create powerful back links that will position your website well and truly on the top of the search engines. If professionally handled, your blog post can build up a readership and generate increased revenue for your business.

While there are many paths open for websites to increase footfall, such as link building or link baiting, blog submission to directories still continues to be the most effective and successful tool. Blog submission helps you remain connected with users and customers and connects you with your target customer group, building maximum exposure and assuring long-term benefits. We make use of our professional expertise to submit your blog to the most popular directories, making sure that your website gets quality back links.

We work to see you position yourself as a leader in your industry by taking your website to the top on search engines through our expert SEO services. We ensure that your blog is submitted in the right categories so that you enjoy the correct readership and achieve the desired results. Pick from one of our blog submission packages today to use this dynamic marketing tool and make use of this cost-effective strategy today!
Key Features
You get High Quality Back Links to your website. No link exchange with third party websites or blogs is required.
Web2.0 pages help you generate sales and huge traffic. However, the choice of your niche also plays a great role in revenue generation.
We submit your site to directories with high PR rank. To view a full list of these directories,
Click here
We give full report on submissions.
Click to see a sample report.
All of your queries will be answered within 24 hours.
Sl. No.
Package Name
Total
Submission
Duration
(Days)
No. of
Reports
Price
Order
1
SCBS100
150
5
2
$25.00
if you are a blogger then you must want people to read your blogs regularly and appreciate it. It has also been proved to be a cost effective way to attract potential business opportunities. You would find every day people are going through blogs to find relevant information on various products and services. But if you find that your blogs are not getting enough readers, then you should take the blog submission service. Blog submissions mean getting your blogs listed in the relevant directories so that you have maximum hits and good traffic is generated for your blogs.


Though the directories are free and you can yourself do the blog submissions, however for doing the blog submissions you need to visit all the blog directories and fill up the requisite forms and then categorize and submit your blog. Some directories will even ask you to create an account for submitting the blogs. There are three ways in which you can do blog submissions. These are:

Manual submission
Automatic submission
Advanced submission

However there are some points that you should keep in mind while going for blog submissions:

You should always be careful while choosing the directories and categorizing your blogs
If you do not have the expertise of doing the submissions then it is always better to take the help of blog submission services, which is provided by us
Check whether you are getting links after doing the blog submissions, if not then go for the expert guidance
It is always better not to use the automatic blog submission since many search engines do not prefer the automatic submission process and therefore you site might not get listed in the search engines.
Always choose the directories listed in the most popular search engines for submitting your blogs, otherwise you might not get the traffic to your website and lose business opportunities

You can take advantage our Coupon Distribution Service and Press Release Distribution Service

Testimonials
I have been using the guys at Submitcube.com on and off for about 3 years now. Early on it was just for the odd job here and there, but more recently they have become an integral part of my business. ..

By Brock Hamilton
About a year ago a friend introduced me to submitcube.com. I told him I had tried many other SEO and submission services and couldn't seem to find one that actually does the job they say they will do ..

By David Patullo
submitcube.com definitely came through for us. We were originally spending money on Google Adwords and Yahoo PPC and barely making a profit. submitcube.com improved and optimized our site to obtain ra..

By Todd James
Thanks submitcube.com! You guys did a stellar job on getting us ranked #1 in a very competitive market. Our sales almost doubled since we started working with you. You guys really know your stuff! Kee..

By Barry Waxler
"I am super happy with the service that i receive from these guys. my 2 keywords are now on 1st page of google. thanks guys!"..

By Jason Write
"We just wanted to take this opportunity to thank you all for your hard work and determination in getting outstanding results with our website. Taking us from the 70th page on Google to the 1st is ..

By Glen Moore
Copyright © 2013 - A Venture of IBS Systems & Solutions - SEO Company, All rights reserved.