RSS Feed Submission Service
The amount of traffic a website obtains unswervingly influences the ranking and popularity of the site. But getting traffic for a website is not an easy task. One the greatest and result delivering method that helps to improve website traffic is RSS Feed submission service. These particular methodologies will help others to find your website or blog easy. RSS Feeds are more appealing than newsletters and e-mails. Proper submissions of REE Feeds to RSS directory sites will help in get tons of free traffic and backlinks.
Our Services
RSS Feed Submission Service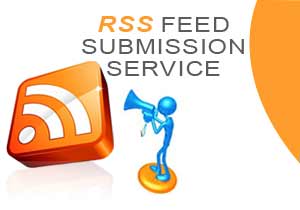 RSS is the process of distributing an article headline, notices of updates, and news of new addition of content to a site to a group of people. This service allows visitors to your website to remain abreast of all your organization's updates even without frequent visits to your website. Further, RSS feed submission allows you to increase the credibility of your website and enhance its link popularity.

In today's Internet-driven world, all blogs have built in RSS feeds. If your site already has an RSS feed, that is already a step in the right direction. If not, we can set up the RSS feed for you. Further, we will submit your feed url to RSS directories and RSS engines so that these will stop by your website and crawl your feed. This will make for easy syndication of your website content quickly. We make the best use of RSS feed submission to submit your website's RSS feeds to the most popular directories and search engines.

We ensure that your website gets quality inbound links, increasing your website rankings and traffic. We place your blog in directories providing direct traffic and keyword ranking in major search engines that will automatically direct readers to your blog. Let us help you exploit the full potential of RSS feed submission with our quality service and see traffic grow!
Key Features
All rss aggregators and blog directories are authority sites
We create unique e-mail account and user account for RSS Feed submission program.
We submit your site to directories with high PR rank. To view a full list of these directories,
Click here
We give full report on submissions.
Click to see a sample report.
All of your queries will be answered within 24 hours.
Sl. No.
Package Name
Total
Submission
Duration
(Days)
No. of
Reports
Price
Order
1
SCRS75
75
5
1
$15.00
The full form of RSS is Really Simple Syndication. RSS is a tool that helps website owners to get the latest updates and information in their websites, so that they can directly contact with the customers and the visitors. It also helps the visitors to be in direct contact with the website where they can get the products and services that they want. Thus by RSS feed submission, the website owneres can be in direct contact with their visitors and customers and solve the problem of thinking about how to get traffic in their websites. In short, this is a great start for business owners who can immediately contact the potential customers and save expenses.

As a website owner you should go for RSS feed submission in the directories in RSS so that you can get the back links from the RSS sites. You will also get good amount of audience from these sites for your website. With the help of the RSS feed the visitors of the websites can subscribe to your website and can have immediate update about all the products and services that you launch. RSS feed submissions are linked in one way and they provide excellent link popularity. Once you have your website or blog linked to an RSS directory you would immediately get lots of links, increase in the website page ranking and greater traffic flow to your website or blog.


However before you go for RSS feed submission for your websites or blogs you must ensure that:

The company has reputation for doing RSS feed submission
The SEOs of the company are experienced in this matter
The cost of submission is reasonable and does not extend your budget

For good RSS feed submission service you can take the help of our team. We do manual RSS feed submission to about 75 directories. Within 72 hours the RSS feed submission of your website will be done and that too in a reasonable cost.


You can take advantage our Video Distribution Service and Social Bookmarking Service

Testimonials
I have been using the guys at Submitcube.com on and off for about 3 years now. Early on it was just for the odd job here and there, but more recently they have become an integral part of my business. ..

By Brock Hamilton
About a year ago a friend introduced me to submitcube.com. I told him I had tried many other SEO and submission services and couldn't seem to find one that actually does the job they say they will do ..

By David Patullo
submitcube.com definitely came through for us. We were originally spending money on Google Adwords and Yahoo PPC and barely making a profit. submitcube.com improved and optimized our site to obtain ra..

By Todd James
Thanks submitcube.com! You guys did a stellar job on getting us ranked #1 in a very competitive market. Our sales almost doubled since we started working with you. You guys really know your stuff! Kee..

By Barry Waxler
"I am super happy with the service that i receive from these guys. my 2 keywords are now on 1st page of google. thanks guys!"..

By Jason Write
"We just wanted to take this opportunity to thank you all for your hard work and determination in getting outstanding results with our website. Taking us from the 70th page on Google to the 1st is ..

By Glen Moore
Copyright © 2013 - A Venture of IBS Systems & Solutions - SEO Company, All rights reserved.