15 Killer Tips to Identify a High Quality Content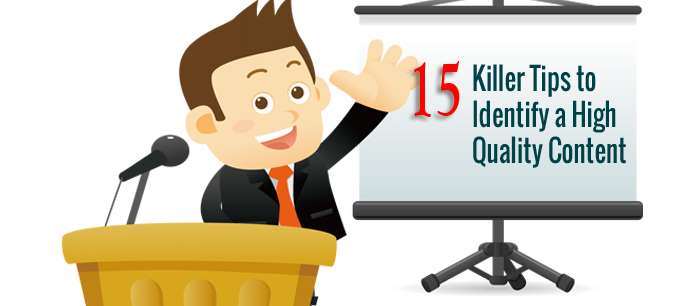 While the definition of "quality" changes depending on the niche, industry, type, or target audience, there are many common elements that are reliable, consistent indicators of quality. Following is a checklist you can use to determine whether your content is 'quality' or not. So, lets dive into the world of high quality content and find out what makes a content valuable and informative.

Writing a high quality content is not an easy task. You need so much time and effort to create a top quality content. Otherwise you have another option to create some low quality content which provides you no result and waste your valuable time and money.

After releasing Google panda algorithm we all know the importance of high quality content and know the value about quality not quantity. Everybody wants an answer regarding how can I judge a low quality content and high quality content or what the ideal character count for a content. There are some other queries also like how Google determines a good quality content? Why Google hits back keyword stuffed and copying sites. One thing always keep in mind that high quality content is one of the many factors which Google consider to place you high in the SERP.

Here we create a checklist about how to create a good quality content. Some question to be considered before publishing high quality content. Let's get started and learn some key to write a content that must rank and provide value and traffic to your website.

1) Are you write the original article

As we know Original Article add value to your website and Google gives importance on it. On the other hand copying content from others or write some low quality content to make a step forward to Google punishment.

No one likes redundancy - individuals are tired of reading a similar things again and again. So new ideas need to be contained in any post you write, or you need to place a new slant on old ideas. Intending to write a short article on Very best WordPress plugins for SEO, and also you end up copying all of the plugin list through pre-existing articles on the net, what's new regarding it. Instead, if you're confident regarding your selection, create a list of those plugins that you are utilizing or used and you may blindly suggest to your audience. Obviously, personal touch along with professional writing is also a Main factor here. This is just a good example, similarly when you're writing on the topic, don't rewrite existing content on the internet however write original ideas as well as experience. Something, which provides a fresh idea.

Remember these 2 rules in your life:
You get that which you pay for.
If you don't have anything beneficial to say, then don't say it whatsoever.
These two very simple points will keep you on the way of making high quality content which will yield returns for many years. They may also assist in other facets of your life. :)

2) Are you currently Utilizing the Suitable Length of Content?

We're currently residing in tricky situations when looking at determining the perfect word count for content. On one side, we know that Google definitely shows a preference for very long form, 'meaty' content which covers every aspect of a topic. Alternatively, our mobile users are expressing a preference for shorter, much more succinct content they are able to read on the go.

With mobile right now surpassed desktop for going on the internet, (60% of mobile internet users use their mobile phone as their primary or even exclusive means of going on the internet), this struggle will still only continue.

When creating content, concentrate on your primary goal as well as to the intent of the audience: If you'd like the content to rank remarkably in the search engines and also to attract links, choose longer, 1000+ word content. If you would like your articles to be readily available to mobile users, eliminate anything unneeded and format your content so mobile consumers can acquire the information they require, fast. Some methods to achieve this include utilizing a lower word count, concentrating on long-tail keywords which mobile users would be more prone to search for, the appropriate utilization of headings, bullet points, lists, as well as linking with other mobile-friendly content.

3) Are you able to provide research that's relevant or can you deliver practical advice?

In addition to admiring original content, individuals also like to read the info that solves an issue they have. If you're able to make use of original research to achieve that, you'll have succeeded in picking out content which is unique as well as worthy of going popular. Ex: You writing a top-notch 10 list on something as well as list posts go viral on social networking sites easily, but have you ever added your opinion, which is the best and what one to pick, or else you making it challenging for individuals to pick the one that does the job completely?

4) Are you utilizing a Solid Headline

An excellent headline initiates interest as well as invites readers in. Think about these excellent statistics from Copyblogger :
80% of individuals will go through your headlines.
But only 20% of those individuals will see the rest of your posts!
And that's why the headline is as essential as the article or even posts itself.

Take some time together with your headlines. If possible, create a few and choose which one you want best. Don't skim over them. These are the very first thing people read, and they're the basis those individuals use to decide when they wish to read your post or not.

5) Are You Supplementing together with Images, Video Embeds, Infographics or any other Media?

It's simple to have high-quality content without needing images or any other types of media, but we all know that visual content material outperforms text-only content when it comes to gaining inbound links, social media shares, time used on a page, and engagement. Actually, we all know that 40% of individuals will respond better to visible information rather than plain text. It's probably that Google factors in the using of multimedia whenever scoring pages because of its ranking algorithm. Even when that's not the case, it's a proven fact that Google considers inbound links to a page as one of the heaviest factors in their ranking algorithm, as well as multimedia-based content is shown to be shared up to 12X a lot more than text content.

Some questions you should ask yourself regarding your utilization of media include:
Do our images or even videos support promises or facts in the content?
Do they fulfill quality requirements from a technical viewpoint?
Are they eye appealing?
Are my infographics or any other unique visual content of the highest quality that others may wish to share them or even link to them?
6) Have you ever made any kind of required corrections along with regard to your facts, grammar as well as spelling?

Even when your writing ability isn't that great, you'll still need to have superb proofreading skills. Hire anyone to help you if this isn't your strong point. Why is this such a crucial point? The spelling on low-ranking web pages is worse compared to spelling on pages using a higher ranking.

Plus, search engines, additionally consider the quality of the reading level in mind, with the ones that are simpler to read enjoying higher rankings. Find out your score by using Google's advanced search functionality. I try to write down on a fifth-grade level, so it seems that my strategy is working. That's my strategy, even if it comes to information that's fairly complex, and that I seem to be successful!

Some things to ask yourself include:
Is my articles factually correct?
Is this article organized in the logical way?
Is my grammar and spelling appropriate?
7) Are you currently Utilizing Proper Page as well as Text Formatting?

Top quality content is visually attractive, readable, and ideal for scanning as well as skimming (that is the way the majority of your site visitors will consume your articles). Google's algorithm is now sophisticated enough that it may detect page as well as content, layout, and you'll be penalized in the rankings for very poor content formatting. Again, even when Google doesn't punish you for this, your human visitors will.

Optimal format includes the right use of:
Short, brief sentences as well as paragraphs;
Bullet points as well as numbered lists;
Bolds and also italics;
Appropriate utilization of white area; and
Headers along with sub-headers to break up long pieces of text.
8) Would a device or a reader be curious about the topic?

Problogger's Greg MacFarlane wrote a fantastic article relating to poor SEO strategies entitled "Why Bieber SEO Copywriting Sex Doesn't iPad Work Minecraft." As you have seen through the title, inexperienced copy writers tailor their writing to the various search engines, but human visitors have a terrible time deciphering it!

9) Are You Attaining A suitable Readability Score?

Quality content is easily readable and rallies, and fits the choices from the audience for which it's intended. Utilizing a tool such as the Readability-Score, which is based on the Flesch-Kincaid readability tests, will help you make sure your content fits the reading level, objectives and preferences of the audience. This is especially essential when creating content targeted at kids or even teens or anyone who has a main language apart from English.

10) Does your writing focus on the interests of the readers or to the search engine results?

Although it might seem odd, coming up with content which is of interest to the readers also affects the machine readers. It is because guests are more prone to share content which they care the most about. The more frequently how the submissions are shared, the higher it'll escalate within the rankings.

11) Will the Content Possess Social Media Shares?

While Google claimed that social signals through Twitter and Facebook aren't a part of their ranking algorithm, there's proof to the contrary; multiple correlation research indicates clear ties between higher levels of social shares and better search engine rankings. Despite the fact that correlation isn't causation, it's logical how the more a specific piece of content is shared, a lot more awareness as well as one way links, it will generate; and inbound links are completely a core ranking element in Google's algorithm.

Another symbol of quality content is whether social media share keys and counters can be found. Without having them may simply be a sign that the business owner isn't technically savvy or even doesn't realize the significance of social media. The possible lack of social counters might also indicate how the content isn't being shared… and this is usually a symbol of poor-quality content.

Google's reason for declaring that they don't make use of social signals within the ranking algorithm is that their particular crawler can't access Twitter and Facebook. However, they haven't yet addressed the truth that their crawler can simply connect to the social share counts existing on social share counters. Furthermore, their crawler isn't restricted to crawling their very own social media channel, Google+, that has repeatedly shown the best correlation to rankings. Hence, the smart bet is always to integrate your posts with social media channels through sharing it across your own, and inspiring your potential customers to share it as well.

12) Can you save your valuable article for later research?

If you don't think that others may wish to bookmark your article, you might want to rethink that which you have written. What's the kind of content that I am talking about?
A report on a presentation event which contains lots of details and that's extracted from reputable sources.
A story which is compelling understanding that features credible characters.
A comprehensive article which explains the way to do something regarding a subject that nobody has discussed earlier.
13) Are the Content Be capable of Offer Answers

What's the ultimate reason for the search engines? Many people could be correct in stating "to deliver groups of answers." Google is efficient at this. Type a question into Google as well as you'll be given links, pictures, as well as videos.

When individuals utilize a search engine, the things they ultimately want is definitely an answer, as well as it's the search engine's job to provide that answer.

It's exactly the same when individuals are reading a blog post, watching an infographic or watching a video - they need an answer to allow them to gain knowledge. An additional tip, here's: people don't simply want answers, they need answers fast. So help make your content simple to scan so people can pick up the juicy, essential bits rapidly.

Read any kind of title and subtitle of the nonfiction book or even an article. Ultimately, what it really leaves the reader with is really a question or perhaps a sense of curiosity. Then it is the author's job to provide answers and also have supporting info.

14) Is the article brief, unproductive as well as useless?

While there is no specific ideal length for blogs, yours needs to be long and powerful. Which perhaps means that you only post twice each week, but if the search engines rank your posts highly, it's well worthwhile.

There are other queries for building a high - quality website by Google on their blog and you may read it here. Also, don't ignore the golden rule of K.I.S.S. (Keep it simple silly!)

Well, this isn't all but in short, in case you continue with the above points and ensure your following post answers every one of the questions above, you simply created a top quality content. Now, you can start focusing on social media promotion of this article by sharing it along with your social group on Twitter, FB, Google+ and other social networks.

15) Does it Have Good External and Internal Links?

Probably the most essential indicators from the credibility of the site or a bit of content is its inbound as well as outbound link profile. We all know that links to bad communities or known spam websites will eliminate the credibility of this article or site in Google's eyes. We also realize that Google frowns on the unnecessary use of internal linking; especially unnatural internal linking or even the excessive use of exact-match anchor text.

Likely the most crucial indicator of the quality of a page will be the number and excellence of inbound links to that web page. Who's linking to the page? If well-known, trustworthy websites are linking into it, that's an excellent indication to Google how the content is reliable and credible. If there are no links to the page, or if the hyperlinks are from small, unknown, or even spammy websites, this can a great sign that the content is poor or untrustworthy.

A bit of content could possibly meet all of the criteria for being good quality, but when other pages on the website are deemed to be low quality, this could negatively impact the rankings of perhaps the high-quality content. Whenever determining the quality of a bit of content, look at the surrounding content too: the web pages it links to (as stated previously), along with the home page, root domain, along with other articles on the website.

Conclusion

If you're posting content with regard to search engines, without providing actual value to readers, it's time for you to re-think your content technique. As you assess the content you've published so far, as well as the content you intend to publish, make reference to the above elements to find out whether your articles can genuinely be regarded "quality."