How to Get the Better Local Search Results for Your Business - A Detailed Overview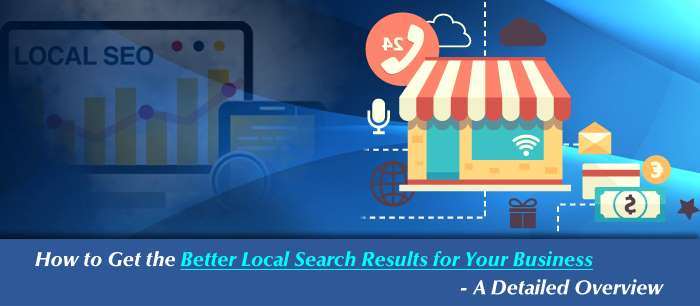 Increase traffic and increase sales are the two original words for any business. If you have the business website, then the much better local search results are the best way to improve visitors and sales. In this time Google focuses on local search results, so a particular local SEO strategy is crucial for any business.

There are lots of ways to get better local search results for your business. In our previous post, we share How Can You Create a Successful SEO Campaign - Some Tips Which We Follow. Here we discuss some strategies to improve the local SEO for your website. We explored a particular approach to get the quality backlink from local resources which combines gaining quality backlinks and content marketing for overall impact.

We covered here in this local results discussions are as follows:

We particularly follow the following topics:
What to Need for a Powerful Local SEO Campaign
Do's and Don'ts of Local Listings
What is a Backlink?
Importance of Backlinks
Get quality backlinks from local resources
What to Need for a Powerful Local SEO Campaign:

Before discussing a particular SEO strategy for a local business, we need to discuss the things which need for local SEO. Every business must check out the following points to check that you covered the local SEO basics.

The local SEO checklists are as follows
You must have a business website
You must have links from local resources
Your business has plenty of online reviews
You have social media presence
You must create business directory listing
You must claim your business in the business listing sites
You post NAP (Name Address Phone Number) info online
Do's and Don'ts of Local Listings:

Do's
Use proper address, contact details, Phone No. to your website
Create local business pages like Google local, Yahoo local
Create business listing and claim it.
Proper NAP submission - Create NAP (Name Address Phone No.) Listing with appropriate information
Encourage Customers to post reviews about your product, service or business.
Be active on social media (Post regularly in social media like Facebook, Twitter)
Dont's
Don't write or use fake reviews
Don't use spammy or unnatural content
Don't list your business in inappropriate category
Don't use incorrect contact info (Name, Address, Phone No.)
Don't use Business name with city or other places. Use proper business name
What is a Backlink?:

Exactly what are "backlinks"? Backlinks are links which aimed towards your site. Also, recognizes as Inbound links (IBL's). How many backlinks you have is a sign of the popularity or significance of that website. Backlinks are essential for SEO simply because some search engines, notably Google, can give more credit to websites which have a significant number of high-quality backlinks, and consider those particular websites more relevant than the others within their results pages for the search query. Backlink uses as a vote to your website.

Important of Backlinks:

At one time when perhaps low-quality links assisted in getting the best ranking for a website.

But since Google released its Penguin algorithm, the entire landscape of backlinking changed.

You will need to have backlinks through quality sites, and those backlinks need to be contextual. For instance, you have a site regarding SEO, and you're creating links from other niche websites regarding Hotel, these links will be not good. Your goal will be to get links through authoritative as well as highly relevant websites.

Inbound links these days are a crucial part of the SEO because whenever you build useful backlinks, your website receives a higher capability of being indexed by the search spiders. It will help to improve worth visitors to your website.

It's not enough to possess a lot of the number of links. You must have quality links. The information of the sites you've incoming links with must to be relevant to the content on your website.

The greater the incoming links, the better the recognition of a site. Backlinks are important for SEO as well as Ranking. Some Search Engines spider, mostly Google provides lots of value towards the number of inbound links. Spiders think about site more dependable that others around the base of the quantity of quality in links they have.

Observe those valuable backlinks as well as relevant inbound links are two crucial scrutinies. Inward links from the website which has good content as well as content connected to the theme of the site provide you with far better stead than the typical link from the badly created website.

Often search engine optimizers attempt to twist or operate the search engine. Excellent links building is the only legitimate approach to increase site placement on the internet.

Backlinks assist with
Improves Organic search Ranking
Much faster Indexing
Referral Visitors
In our previous post, we share here the 18 Link Building Techniques That Work Best In 2016. Check this post and start to create some quality backlink for your site.

Get quality backlink from local resources:

Getting high authority backlinks from local resources is tough. Here we share a strategy which combines two essential elements backlinks and content marketing. The strategy will be done for any places any local areas.

Get quality backlinks from the local resource is starting with collecting fun topic from your city or the area where you or your business resides. Select the fun topic about your cities which includes, events, local attraction, historical info and other around your city and write unique and exciting articles on that tropic which you research.

After that, you need to find local authoritative sites which accept your post. Research their content and write the best article consider about the audience.

Here are the steps you should follow
Begin with local study to find interesting topics you'd want to write about
Additional explore preferred topics
Identify local websites as possible publication sites
In-depth study on every topic
Begin creating your posts
Time for the field work
Modify articles - pull it all up!
Publish as well as share this posts
By the end of your work, you need to create about five articles with relevant images and videos. After that, you need to be offered the particular websites to post your content and provide you a backlink in author bio section. You can also post some articles on your blog to increased content value.

It is always best to get a quality backlink from the local resource for your website, and it makes all the difference to rank over your competitors.

Obtaining your website or even your client's website to get ranking locally is tough. Nevertheless, you will find local SEO strategies such as quality backlink from local resources which you can use to improve local rankings while having enjoyable and providing your community along with the interesting content material. Additionally, the only cost for the SEO effort such as this is the time.

Have you got another local SEO strategy which works for you? Leave us a comment and inform us.