Guest Blogging Tips - Is It Still Valuable for SEO?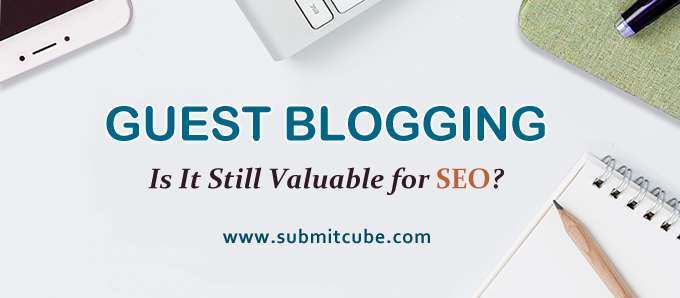 Guest Blogging is dead or it still valuable for SEO. This debate is going on among us based on a report of Matt Cutts, former head of Google's Webspam team.

Many of us misinterpreted this post by thinking guest blogging is wrong tactics, but later Matt explains what he wants to say about guest blogging in his original post:

"I'm not trying to throw the baby out with the bath water. There are still many good reasons to do some guest blogging (exposure, branding, increased reach, community, etc.). Those reasons existed way before Google and they'll continue into the future. And there are absolutely some fantastic, high-quality guest bloggers out there. ..I just want to highlight that a bunch of low-quality or spam sites have latched on to 'guest blogging' as their link-building strategy, and we see a lot more spammy attempts to do guest blogging. Because of that, I'd recommend skepticism (or at least caution) when someone reaches out and offers you a guest blog article."

This means guest posts which provide real value of the interest of the readers in mind is still valuable. On the other hand guest posts which published only for SEO or link building purpose are no longer useful and can lead to penalties or ranking drop.
What is Guest Blogging?
If you are a blogger or a businessman, you must hear about guest blogging and heard it's the best strategy for link building.

In one-word guest blogging is not other than writing a valuable post on another person's blog. In guest blogging, you can write a useful post on another blog which provides real value for their readers or someone creates a blog post for you. Guest blogging has several benefits, but low-quality guest blogging can have some negative impact as well.

Guest blogging provides benefits for both blog owner and guest blogger. As a blog owner you get a valuable content for your audience and as a guest blogger your post reaches more audience in your niche and get more exposure. A guest post in an authority blog can increase your Facebook and Twitter followers, website visitors, RSS readers and it's an excellent way of branding.
Why Google Penalize Some Guest Posts?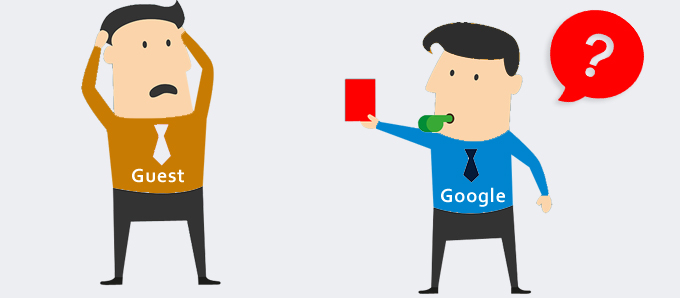 We are readers. We always search for valuable content. We like the opinion of the blogger, industry experts or guest blogger who post for users but not for links. We all likes journal like CrunchBase, SEJ, SEW but not like the multiuser blogs which accept thin content and bogus guest posts. If we are not like all thin content and spammy blog posts which only write for the backlink, then how the search engine like Google loves them.
How to Choose the Perfect Guest Post Request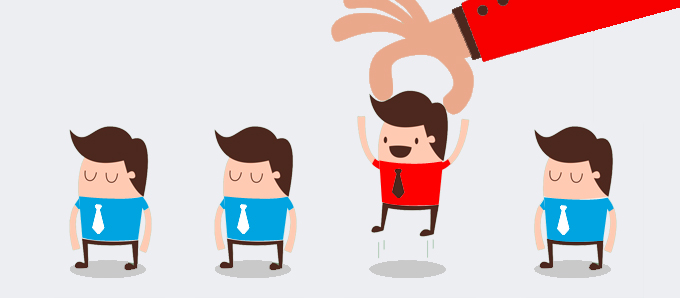 Relevance
A perfect guest post is that which focus on the relevant topic and your blog style and suitable for your audience. Describe the content briefly and not advertise their product or services. A spammy guest poster can send you a post on any topic for a link.
Backlink
All guest posts have one or more links. So links in the guest posts is not a bad practice. You need to review the purpose of the backlink which they create on their blog post. Is the link guide your audience to another resource or relevant information what they are looking for, then it is the best link building practice. On the other hand, if the link goes to a service or product page, trying to sell something then it's a spammy attempt. You can use an author bio link for the author on your blog.
Sender
Always take the guest post from the person that you heard of or you know or have a reputable online presence. They can tell you why they write for your blog.
Compensation
As a blogger, you can get a link request from someone for money. It's a clear violation of Google's quality guidelines. Google marks them as a spammy attempt. A genuine guest poster sends you an excellent post which values to your blog and audience not offer a link exchange for money.
What is the Best Guest Blogging Practice
The most important thing about a guest post is relevancy and value. When you create content, your aim should be the focus on your audience not for links and SEO. You need to educate your audience by providing the useful resource. This is the primary objective of your guest post. Links and SEO is your second choice. Always contribute your high-quality post on an excellent blog which has lots of visitors and has a relevant topic to your blog posts not in a terrible one without traffic.
Here we share a few tips for Guest Blogging.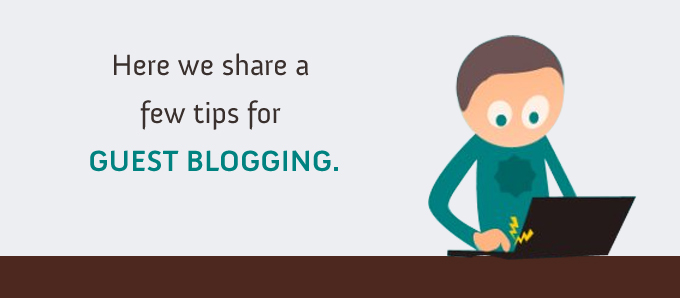 Only Write for Relevant and Popular Blog
Always find a blog which relevant to your blog posts and have lots of traffic, natural links, and visibility. Check are if there lots of well-written content on your topic or not.

With the help of SEMrush, you can get the traffic report of the blog. Check Moz's domain authority to find the quality of the blog where you want to post your guest blog. Use Ahrefs and Moz site explorer to check backlink of the blog. And the most important part, check the Google indexing by using site:yourwebsite.com search on Google. If the blog is not indexed, then leave it.

Make sure the blog where you want to post a guest blog is relevant to your topic. It ensures you reach the right audience with your blog post.

Now the question is how can I find a useful blog for guest posting. Check your competitor's backlinks by using some backlink checker tools. Look where they post which help them to get top page rankings. You can use Buzzstream's prospecting tool to find the relevant blog.
Use Proper Anchor Text
Don't use anchor text every time on your guest post. While anchor text link plays a vital role in ranking, still you need to create a natural link profile with varied anchor text and external link.
Avoid Keyword Stuffing and Allways Keep Audience on Your Mind
Don't violate Google's guideline. Always write for people not for the search engine or for the link. Always provide useful information to your readers. Google did not like the unnatural blog post. So be cautious.
Only Write for the Blog Websites Where Content Manually Reviewed
Make sure you write a guest post for the blog which manually reviews all the blog post before publishing to maintain quality. Avoid any website that allows you to upload the document or approve post instantly. That's a big red flag. Look for the blog which shows author details and contact details clearly. This is the clear indication of an excellent blog.
Don't use Spoon Content
Google warning about content spinning in 2017. Don't use spoon content for your guest blogging purpose. Always use fresh informative content to earn respect from your audience. You can create a content on a similar topic which you publish previously that is fine but don't rewrite it again and again. It is always the safe practice to create useful content that solves your reader's query and solve their problems.
Now the Question is Guest Blogging Still Good for SEO or Not?
In a word, the answer is yes. If you post the guest blog by maintaining Google's guidelines, then it is still good for SEO. Publishing useful high-quality content on another blog gives you huge traffic, backlink and better search ranking.