13 Instagram Marketing Strategy that Drive Sale for your Business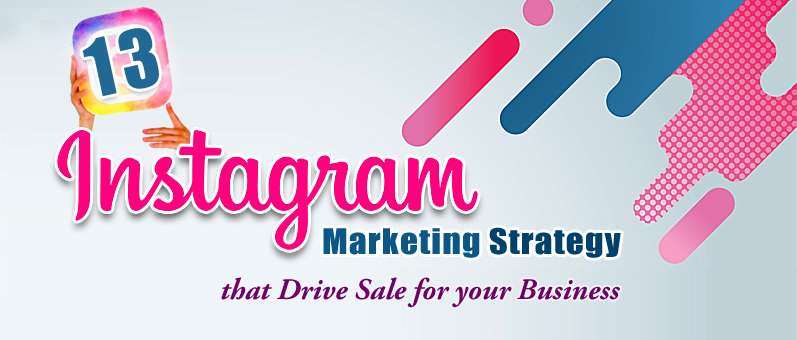 Every business needs an active social media presence. It's crucial to surviving in 2019. In this time Instagram is the leading social media platform. Any social media strategy can't complete without Instagram marketing. It's a most popular platform for business, brands, consumer and advertiser.
With 800 million monthly users Instagram is popular among all social media channels. Almost 500 million profile active daily among them nearly 60 % users are in between 18-29. For this reason, Instagram regards as the topmost platform. Brands get the opportunity to engage with their fans.
The study shows that users use 70% branded hashtag on this platform. Also keep in mind only a profile on Instagram not leads to sales. If you want to make real money, you need to create robust tactics which guide you to the right path.
In this guide, I will teach you how to create an Instagram marketing strategy which provides you best return on Investment. So let's begin.
Step 1: Plan your content strategy
Content strategy is the initial steps in Instagram marketing strategy. If your content is not relevant and engaging to your target market, then you lost the opportunity to make the most from Instagram.
First, plan what type of content you want to share. You need to figure out what kind of image you want to share with your content. If you have no idea, then I share here some categories:
Product Related: That is the most popular marketing strategy on Instagram. When you focus on your product means you create content, photos, videos related your product. This is a simple strategy to promote your products on Instagram. You try to show your product among your followers through your post. Wish they like those products and become the customer of your business.
Culture Related: It may happen when your bands have a culture, but your product description is not attractive. You don't need to advertise your product on a regular basis, but you can develop brand identity through social media. You can follow Buffer profile on Instagram and check how they promote their brand.
Mix These Two: Obviously, you can use these two strategies. If you do it right, then you get to benefit from Instagram and can maintain a nice Instagram feed.
User-generated content: If your brand has enough customer you can try to use the content created by your users. This strategy is best for experienced Instagram marketing professional and tough for newcomers in this field.
You need to avoid too many promotional posts. A study by Sproutsocial shows users are not like too many promotional posts:
It shows 46% of users unfollow the brands who post promotion on a regular basis.
Try to post short and to the point don't use all capital letters or quotation marks around everything.
Step 2: Understand The Intention of Your Instagram Marketing
Instagram marketing is profitable for any business. To get the benefit, you need to determine your Instagram marketing strategy in advance. It's an essential task for every business owner.
Why you use Instagram? The answer is most common for marketing purpose. But that's not clear.
You need to target a specific goal to achieve with Instagram. You must set a particular Instagram marketing strategy. That applies to every business that new or practices this site for a long time.
So before you can start asking these questions to yourself
Why you select Instagram over other social media platforms like Facebook, Twitter?
What is the different approach you take in your marketing plan on Instagram over other social media platforms?
Is visual content marketing does well with your brand?
Is your audience use Instagram?
Why you use Instagram? Only for sale or brand awareness?
Does Instagram marketing go well with other social media promotion?
You will find several reasons why everyone should use Instagram. But the main motto is always the same. Attract your customer and build a customer base by using visual content.
It's not important what you have done. Post a user-generated content or use product photo, it's all about focusing your brand with visuals in front of your target audience.
Instagram is noted now for its mobile application and as a standard mobile platform. Everybody capture visuals and share with their followers on Instagram. By understanding this every brand need to post visuals which looks natural and spontaneous, it helps to create a real connection with your followers.
Your Instagram marketing strategy can focus on objectives like share company news, showcase your product to build your brand awareness, get more customer and generate the sale.
Step 3: Increase your Followers.
The primary objective of your Instagram marketing is growing your followers.
Without followers, you are not able to showcase your product or service to lots of people and can't generate the sale for your business.
When you create your profile, you start with 0 followers. But if you are in business for several years, then you have lots of customers. So it is easy for you to get followers quickly.
That's the perfect place to start looking for followers. Here I share some reason why user follows popular brands on various social media platforms:
As you see in the picture, 70% of customer says they follow the brand because they like their product or service.
Your customer must be interested in your brand. So why you are not saying them about your Instagram profile and request them to follow you.
You can send a message with the offer to your email subscribers and request them to follow your profile on Instagram.
If you use this tactic, you need to keep your promise.
You can use the Instagram badge on your webpage. Show your Instagram profile on the website with other social media profiles.
Another best practice is that follow other people on Instagram, but be cautious don't follow the random Instagram users.
Always find followers in your target market. That help you generate leads and more customer.
You can check your competitor's profiles to get followers. I am not telling you to steal their followers. But this is a good tactic.
You can start following the profiles which share content related to your market. Some of them must follow back to you.
Step 4: Create a Business Profile
Don't treat your business Instagram account like your personal Instagram profile. If you did so, then you should miss some key optimizations. The business profile gives advantages of using analytics tools and allows you to display additional information like the contact button.
There is another advantage, Instagram now offers to create a link for business pages above 10,000 followers. Previously this offer is applicable only for global brands, but now they change their policy and permit to add a link for business accounts with moderate followers.
Step 5: Place Link on Your Bio
Use the link on your bio section on your profile and allow users to visit your website or landing pages from Instagram.
What are the offers you share on Instagram at this moment? Are you promote your sale, running an offer? Use your bio link to direct users in your offer pages.
If you want to use your bio link in the usual way, then create a landing page, where you place all the relevant links that you want to promote. When visitors click on it, they find all the essential information in one place which they want. They also learn about the previous campaign you run.
Step 6: Know Your Audience
The first thing you need to research your audience. Who are you trying to reach with the Instagram profile? Are you check your audience use the Instagram app? Keep in mind that 68% Instagram users are female and age below 30. Carry out research and determine the age, location, gender, interest of your audience before creating and promote content on Instagram.
Once you know the demographic, then focus on other behaviors such as:
Who did they follow on Instagram?
What kind of Hashtag did they use?
What brand did they follow?
What location did they tag?
This research is vital and does not need a long time, but this is the initial steps of creating a strategy for your Instagram marketing.
Step 7: Perform a Through Research on competitor Content
Like market research, competitor analysis is also vital for your Instagram marketing. You can get huge benefits from it. When you create an Instagram marketing strategy, you can study the big players in your niche. Check what they are doing and what you can improve to make a better business profile. When you research on your competition, remember their audience is your target visitors, so consider the following things:
Check their engagement rate.
What type of question did they ask by their followers?
Check how they respond to comment.
Check the hashtags which they use to promote content on Instagram.
Check their CTA.
Check their content type, which they promote.
By competitor analysis, you get a better view of your audience and get the right path to promote your business on Instagram.
Step 8: Focus on Content Scheduling
Once you have found out the content strategy, you need to focus on content schedule. Instagram is not showing content consecutively. They reward engagement and arrange post on users news feed by centering on content they like.
You need to post regularly to increase visibility and get more followers. You can encourage people to follow you by posting fresh content on a regular basis.
Use Buffer tool to schedule your content. It saves your time and provides you the opportunity to maintain them appropriately. This tool is essential especially for small business as they have not a professional social media manager. It helps them doing other work and promote Instagram profile.
How much you want to post it all up to you. If you like Ten posts in a month, then you can post every three days. But keep in mind about post timing. It matters. You need to research and find the time when you get most engagement for your post. Try to find the time when your followers are active on this social media site and schedule your content as per research.
Step 9: Focus on Media Creation
There are lots of tasks to complete when you promote Instagram profile. The users of this platform always love engaging and exciting posts. So you need to create awesome stuff to get engagement.
Here I share some best tips on content creation:
Think about Quality: Everyone does not afford a DSLR or professional camera, but you need to post quality media with the tools you have. You can use the modern smartphone, which has a quality camera to awesome shoot. Try to capture photos which look exceptional and engaging.
Then Focus on Editing: You will get many tools on the web to clean your photo and make them remarkable one. Use apps like Snapseed, VSCO or Enlight to make your photos noticeable. Try to take two or three images and select the best from them.
Caption: When you promote your product on Instagram, focus on the content caption. You need to direct your followers to your product page by Instagram post for better sale. So create the caption which direct followers to click.
Step 10: Use Appropriate Hashtags on Your Post
We all know about hashtags. It quite common term for social media and Instagram made it more special. Only post some content is not enough for your Instagram marketing. You need to visible in front of new people to get the maximum result. Your target audience tries to search using hashtags, so why not you get the advantage from it.
Don't use too popular hashtags, because your content will hide behind the similar topic. But you can put product related hashtags, and it works well. Last but not least, don't post too many hashtags in one post which bore your audience.
Step 11: Track Your Progress
The important thing is on Instagram is that you need always testing and optimizing your content. To make the most from Instagram marketing, you need to track your progress and find out what content works best for your promotion.
By using Instagram insight, you can get the idea which is working and which content is not. If you want in-depth analysis, you can use the specific tool like Hopper HQ Analytics.
Step 12: You Can Try Sponsored Posts
The advantage of promoting on Instagram is that it's always free.
It permits you to post content and create a profile on free of cost. In this post, I discuss many methods to create an outstanding Instagram marketing strategy which won't cost you anything.
But if you are not satisfied with your promotion on Instagram, then you can make use of Instagram ads to get new followers and boost sale.
You have got the various option here
Stories
Videos
photos
carousel
If you need more information, you can check the Instagram Business website and get help from there. Try to create ads within your budget which reach your target audience for engagement. ***
Step 13: Go Live
Live video streaming is a vital marketing tactic in 2019. Instagram provide live broadcasting features which you can use for live streaming. Users like the live video and brands get advantage from it.
You connect with your audience directly with live video. People can comment on your live streaming when you broadcast. You must response your comment to increase engagement metrics.
With live streaming, you can promote your product or introduce your employees, showcase your facilities. You can arrange a question-answer schedule to connect with your audience.
Use this feature and connect with your audience. Get new follower and increase your sale.
In One Word
In one word I would say, you need to have one active Instagram profile for your brand. Set up your profile in an excellent way and always try to get followers. Post and comment regularly, but don't share many promotional posts. Use live streaming features and get benefit from it. Use captions with hashtags and try to post user-generated content. If you want more, then you can try sponsored post. Apply these tips to get a strong Instagram presence and increase your sale.
You may also like: