Directory Submission Service
Being visible online is the need of the hour. For those who are looking to get visibility online, it is ideal for them to choose directory submission service. It is considered as the most trusted and well-liked link building method that can help business to get high quality one way backlinks. Effective SEO (search engine optimization) is attained through one way back links. This will enable to push the ranking on search engine result pages. Higher quality back links will automatically increase the rankings on the search engines thus improving your overall internet visibility.
Our Services
Directory Submission Service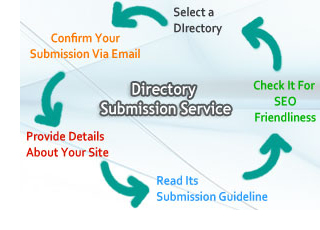 Manual Directory Submissions Service get more visit & backlinks for your site
One of the many popular methods for enhancing page rankings for websites, directory submission is a proven method for getting quality back links for your site. What you need to make sure, however, is that the submission is done to relevant sites, so that your time and money are not wasted.

Further, your website achieves the page ranking it deserves and you are able to draw traffic to your website. Our superior services ensure that when we undertake directory submission, we choose each directory on the basis of its suitability and credibility. All the directories that we make submissions are respectable and are not blacklisted by any search engine. We ensure you get a significant number of incoming links that will help you top the page listings on major search engines.

Our directory submission services ensure you get increased visits from search engine robots, heightened visibility on search engines, and finally impressive brand building. We help create the right buzz for your website on all prominent search engines, so that your target audience invariably finds its way to your business!
Key Features
We manually submit to all directories. All staff members are well trained and they follow all submission guidelines.
We allow our users to give 10 unique titles and 10 unique descriptions to avoid duplication of content.
We submit your site to directories with high PR rank. To view a full list of these directories,
Click here
We give full report on submissions.
Click to see a sample report.
All of your queries will be answered within 24 hours.
Sl. No.
Package Name
Total
Submission
Duration
(Days)
No. of
Reports
Price
Order
1
SCDS100
100
3
1
$10.00
2
SCDS500
500
5
2
$40.00
3
SCDS1000
1000
10
5
$60.00
If you want to grow your business opportunities online, then while deciding on the marketing strategies, you must give priority to directory submission service. It is the best way for gaining back links to your website and also earn good page ranking. There are various types of directory submission services available.

General directory submission
Niche directory submission
Article directory submission

Depending on the type of the content in your website you should choose the directory submission service. General directory submission is helpful since with this submission service you can easily get genuine back links to your website by submitting your website to the various directories which are recognized by the search engines. Niche directory service is helpful if you have some particular product and therefore your website would be submitted to those directories which cater to those products and the back links that you would get would have more value than those you get by doing general directory submission. Article directory submission is best for you if you are launching any product or service. However, it might come into your mind that why should you go for a directory submission service and not directly submit your website to a free directory. Then here are some problems that might arise if you choose any free directory.

Many free directories might suddenly charge you though they initially would offer free services
The owners of these free directories create thousands of directories using the similar host and the search engines like Google or Yahoo very rarely use these networks
All of the free directories are not SEO friendly and therefore getting good page ranking might become impossible
Submitting to wrong directories will waste your time and you will again need to change the directory for getting page ranking

To avoid these problems you can use the directory submission service provided by us. The benefits that you would get are:
An expert SEO team offering directory submission services every day.
Submission of your website to those directories which are highest ranked so that your website has the best chance of getting listed Get your website listed in those directories which is the only one hosted in one IP address


You can take advantage our Article Submission Service and Blog Submission Service

Testimonials
I have been using the guys at Submitcube.com on and off for about 3 years now. Early on it was just for the odd job here and there, but more recently they have become an integral part of my business. ..

By Brock Hamilton
About a year ago a friend introduced me to submitcube.com. I told him I had tried many other SEO and submission services and couldn't seem to find one that actually does the job they say they will do ..

By David Patullo
submitcube.com definitely came through for us. We were originally spending money on Google Adwords and Yahoo PPC and barely making a profit. submitcube.com improved and optimized our site to obtain ra..

By Todd James
Thanks submitcube.com! You guys did a stellar job on getting us ranked #1 in a very competitive market. Our sales almost doubled since we started working with you. You guys really know your stuff! Kee..

By Barry Waxler
"I am super happy with the service that i receive from these guys. my 2 keywords are now on 1st page of google. thanks guys!"..

By Jason Write
"We just wanted to take this opportunity to thank you all for your hard work and determination in getting outstanding results with our website. Taking us from the 70th page on Google to the 1st is ..

By Glen Moore
Copyright © 2013 - A Venture of IBS Systems & Solutions - SEO Company, All rights reserved.