Directory Submission Service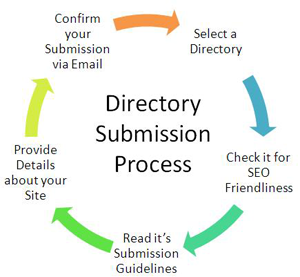 Manual Directory Submissions Service get more visit & backlinks for your site
One of the many popular methods for enhancing page rankings for websites, directory submission is a proven method for getting quality back links for your site. What you need to make sure, however, is that the submission is done to relevant sites, so that your time and money are not wasted.

Further, your website achieves the page ranking it deserves and you are able to draw traffic to your website. Our superior services ensure that when we undertake directory submission, we choose each directory on the basis of its suitability and credibility. All the directories that we make submissions are respectable and are not blacklisted by any search engine. We ensure you get a significant number of incoming links that will help you top the page listings on major search engines.

Our directory submission service ensure you get increased visits from search engine robots, heightened visibility on search engines, and finally impressive brand building. We help create the right buzz for your website on all prominent search engines, so that your target audience invariably finds its way to your business!
Key Features
- We manually submit to all directories. All staff members are well trained and they follow all submission guidelines.
- We allow our users to give 10 unique titles and 10 unique descriptions to avoid duplication of content.
- We submit your site to directories with high PR rank. To view a full list of these directories,
Click here
- All of your queries will be answered within 24 hours.
Packages
Frequently Asked Questions
if directory submission service search engine friendly?
Yes, our directory submission service is 100% search engine friendly service. We update our strategies regularly to comply with the latest Google algorithm. Our directory submission service is Google Penguin and Google Panda friendly.
Do I need to exchange links with any third party websites?
No, all the links that you get will be one way links. There is no need to exchange links with any other website.
Is this a manual directory submission service?
Yes, Submitcube offers 100% manual directory submission service.
Will my website get good quality links?
Yes, your website will get excellent back links when you choose our directory submission service. We will submit your website only to high PR directories that enjoy good reputation.
Are the links you get for my website 'do follow' links or 'no follow' links?
All the links that we get for your website are 100% do follow links.
Can I use your directory submission service for deep link building needs?
Yes, of course. You can make use of our directory submission service for your deep linking needs too.
Am I allowed to select my keywords for the submissions?
Yes, you can select up to ten keywords for each URL or each order.