Press Release Distribution Service
Online marketing plays an important role in building brand credibility for a website. Internet marketers employ different techniques in order to promote a brand, get free targeted visitors and higher rankings. Press release is one of those few effective marketing techniques that highlight company's profile and help it to earn huge profits. Hence businesses looking for instant publicity can opt for press release distribution service. The service will help to keep your sales results up thereby saving your time and money.
Our Services
Press Release Distribution Service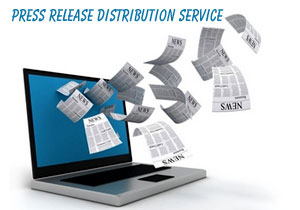 Looking to promote your products and services on the Internet? Do not overlook the power of the press release. Press releases bring your business instant attention, improve search engine rankings and most importantly, drive more business to your site. An effectively managed press release distribution can be a major publicity campaign for you and your business. It put your website where people will find it; it helps you jump to the front in search engines, and notches up your sales.
press release distribution

We sue our professional and expert SEO services to handle your press release distribution and get your business the much needed publicity. We submit professionally written press releases to our extensive press release distribution system, including to search engines like Google and Bing, major news sites like Yahoo!News and to many, many journalists and bloggers. Use our valuable press distribution mechanism to effectively build your brand and reach out to the maximum number of people in the shortest possible time.


Further, keep your audience connected to your business – use press release submissions to update your customers about updates, happenings and special promotions. Use our professionally written and submitted press releases to optimize your website. Keep in touch with your existing as well as prospective customers with our search engine friendly press releases!
Key Features
Press Release is optimized and is Search engine friendly
Include up to 3 Keywords in Press release.
Professionally written Press Release up to 500 words in a newsworthy format.
Press releases will be based on your product and service.
We submit your site to directories with high PR rank. To view a full list of these directories,
Click here
We give full report on submissions.
Click to see a sample report.
All of your queries will be answered within 24 hours.
Sl. No.
Package Name
Total
Submission
Duration
(Days)
No. of
Reports
Price
Order
1
SCPR75
75
3
1
$12.00
Press release submission services provide a boost to your business. It will help you reach the global audience and the online news site, local, national and international media and the publications. A good press release submitted by a good service provider would take your company to new heights.


The benefits that you can have with a good press release are the following:

Increase in the page ranking of your website
Having traffic targeted to your website
Getting back links to the website which boosts the business opportunities
Increase in the sale of the product and the services
Help in getting your website crawled by all major search engines
Increase in the link popularity of your website

It is always better that you go for press release submission services for your website. This is because press release submissions are quite tricky jobs and require experts. It is always better to seek the help of the professionals who know how to and what to write in press releases. Also it is always better to go for the press release submission service that offers manual submission services. This is because the automated submission software used by some press release submission services providers is looked upon as spam by the search engines.


If you are looking for a press release submission service provider, then you can come to us. We will distribute your press releases to 75 top ranking press release directories. The names of some of them are, PRlog, 1888press release.com and i-Newswire. We do manual submission and after categorizing your press release, it will be uploaded in the directories within 3 days time. We also provide three links to your press releases before submitting them to the various press release directories. These links would act as entry points for your website.


You can take advantage our RSS Feed Submission Service and Social Bookmarking Service

Testimonials
I have been using the guys at Submitcube.com on and off for about 3 years now. Early on it was just for the odd job here and there, but more recently they have become an integral part of my business. ..

By Brock Hamilton
About a year ago a friend introduced me to submitcube.com. I told him I had tried many other SEO and submission services and couldn't seem to find one that actually does the job they say they will do ..

By David Patullo
submitcube.com definitely came through for us. We were originally spending money on Google Adwords and Yahoo PPC and barely making a profit. submitcube.com improved and optimized our site to obtain ra..

By Todd James
Thanks submitcube.com! You guys did a stellar job on getting us ranked #1 in a very competitive market. Our sales almost doubled since we started working with you. You guys really know your stuff! Kee..

By Barry Waxler
"I am super happy with the service that i receive from these guys. my 2 keywords are now on 1st page of google. thanks guys!"..

By Jason Write
"We just wanted to take this opportunity to thank you all for your hard work and determination in getting outstanding results with our website. Taking us from the 70th page on Google to the 1st is ..

By Glen Moore
Copyright © 2013 - A Venture of IBS Systems & Solutions - SEO Company, All rights reserved.