Video Distribution Service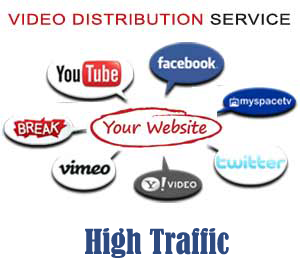 Our premium video distribution service manually distributes videos to popular and frequently visited sites like YouTube, Dailymotion, and Vimeo. We distribute videos in as little as three days to seven days, distributing the videos in the most appropriate categories and ensuring your website can utilize the power of the videos to its advantage. No e-commerce website can afford to ignore the power of video distribution as way of popularizing websites and its products and services.

In fact, a lot of companies have even realized what a dynamic marketing strategy video distribution can be, if it harnessed correctly. Videos are, in fact, a great way of attracting visitors to your website, leading ultimately to higher sales. The advantage of recruiting a professional video distribution service is that it can distribute videos in an effective manner, achieving the desired results. A professional video distribution can make sure your videos are appropriate and that they are distributed in the suitable categories. On the other hand, a poorly distributed video can have minimal or no impact at all on your enterprise, even leading to more harm than good.

Use the visual power of well distributed videos to drive visitors to your website and increase sales dramatically. Pick from one of our packages to make best use of our professional video distribution service today!
Key Features
- Correct categories chosen for all the submissions to enhance the visitor quality to your website.
- We submit your videos in the correct category to get maximum advantage.
- We take care of everything from account creation, registration and confirmation processes.
- We submit your site to directories with high PR rank. To view a full list of these directories,
Click here
- All of your queries will be answered within 24 hours.
Packages
Sl no
Package Name
Total Submission
Duration(Days)
No of Reports
Price
Order